Come and Join in the fun!
 **Friday**
7pm Bingo
**Saturday**
Not So Newlywed Game held after our Valentines Day Potluck
3 pm Pigeon Classic Adopt a pigeon for $5
and enter into the Race
Chicken Poo Bingo 5pm
7 pm Karaoke and Trivia
**Sunday**
9 am-2 pm Canoe/kayak trips and rentals
**Monday**
Meet and Greet 1pm
**Wednesday**
Game Night 6pm
St.Patrick's Day Pot Luck 3/14 5pm
 Pigeon Classic and Chicken Poo Winners from Feb. 17, 2018
Maddox Pokey Pigeon Prize, Dusty 1st, Steven 2nd, Chrissy 3rd Edward, Chicken  Poo Winner

Burger Challenge Winner March 20, 2016
Justin Bolin

Weekly Entertainment
The Suwannee River Rendezvous is
Excited to provide entertainment for our guests. 
Friday:
BINGO 7-8pm $3 a card plays all 9 games.  100% payout by the house.  All ages welcome.

Sing-a-long with Grandma Susie .  Bring your guitar or other instrument and join along. 8:30-9pm  Grandma Susie is a bit under the weather right now but anyone is welcome to have the sing-a-long and use the house guitar and campfire instruments.
Saturday:
Karaoke w/ Dave Fountain 7 – 11pm

Trivia 7-11pm

Last Saturday of the month the "Salt Water Cowboys" Play. 7-11pm
We now have Budweiser, Coors, Heineken, Mikes Hard Lemonade, Floridian Funky Buddha
and other 6% alcoholic products available for sale in the lodge!
Free Wi-Fi in the lodge!
Trivia Winners
1/20 Crazy Critter
2/3 We Did it Again
2/10 It's Marie's Fault Again
2/17 The Three Stooges
These Smart groups won a large sampler platter from
Grandma Susie's Cookin' Shack
"The Jumping Sturgeons"  Had a perfect Score of 20. November 14, 2015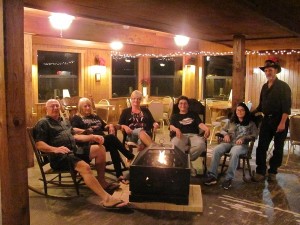 Grandma's Room with fire pit and rocking chairs.  Enjoy playing bingo or singing Karaoke in the newly renovated lodge.
Cameron's International RC Track