Come and enjoy the Historic Suwannee River!!
We can pick you up, drop you off, or you can enjoy fishing and paddling the river off our boat ramp.  We can supply you with canoes and kayaks or haul your personal equipment.  We currently have a variety of Canoes and Kayaks available, as well as one Canoe.  Our Canoes can fit 2 adults and 3 children.  This boat available for use at the resort only.  We have 3-4 person canoes available for family trips.  We also have 8-12 ft. kayaks and 2-10 ft. kayaks available.  We have both sit on top and sit inside kayaks.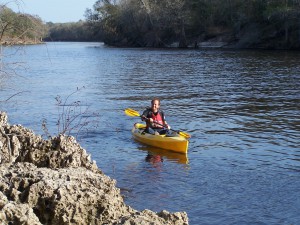 Canoe Rental (per boat)
$5.00 per hour ( 2-hour min. )
$30.00 per day
$20.00 Drop off/Pick up (Depending on the trip you chose)
Kayak Rental (per person)
$5.00 per hour ( 2-hour min. )
$25.00 per day
$20.00 Drop off/Pick up
All rentals includes paddles and life jackets, Group rates are available.
We offer several popular trips o
North from Suwannee River Rendezvous

Blue Springs ( Lafayette County )………..6 hr. trip 12 miles
Hal Adams Bridge ( S.R 51 )……………….4 hr. trip 6 miles

South from Suwannee River Rendezvous

Branford ………………………………………….6 hr. trip 13 miles
Special trips can be arranged. Call the office to plan your next adventure. Ask about our group discounts!
This island is just down stream from the resort. People have caught a lot of fish in the area around the island. One guest even had a fish (mullet) jump in the canoe while fishing off this island.