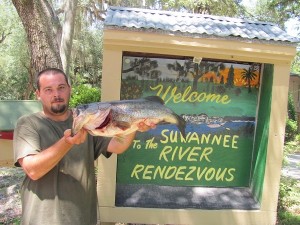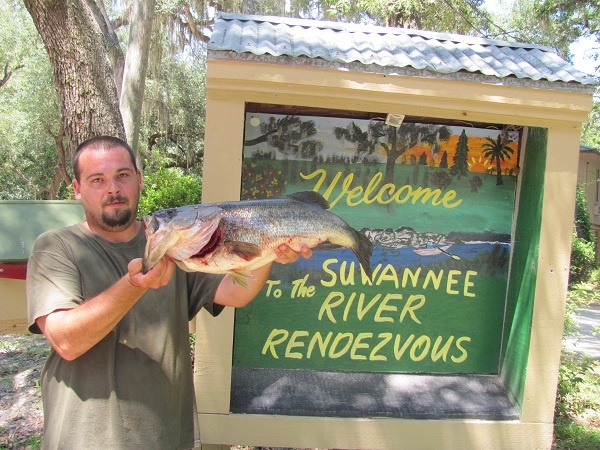 Tim  caught a 12 lbs bass in a boat off the bank of the resort.
Fishing is excellent on the Suwannee River. We have Large Mouth Bass, Suwannee Bass, Mullet, Bream (Blue Gill, Sun Fish) and Channel Catfish. We have large Sturgeon (200 lbs.) but you can't keep them.
Our boat ramp was constructed in the mid 1800's and used as a ferry stop. It was called Grant's ferry and the other side of the ferry is just across the river and down stream from us. It is not the easiest for boaters to use because of the turn at the bottom. This is how the ferry's got out of the current of the river so they could load and unload. Down river from the Rendezvous by Troy Springs there is a wreck of a boat used on the Suwannee when river traffic was used more than horse and carts.
Dragonfly Ranch is only 20 minuets away and offers several horseback trail rides for riders of all experience levels.  Check out their web site http://www.dragonflyranchflorida.com
Hunting season for wild hogs is year round and we have had a number of hunters at the Rendezvous. They are having good luck in the Mallory Swamp WLR.  No pictures yet but hunters on the weekend of 2/6 got 2 wild hogs and the weekend before another group got 4. They told us that the hogs are very plentiful this year.
Hunting is always good at the Ranch. Year round hunting with a guarantee of getting what you want. Check out their web site and get the trophy that you have always dreamed about. http://suwanneeriverranch.com