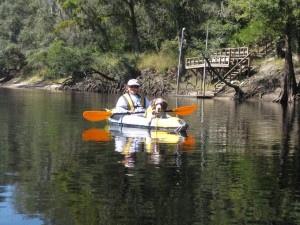 The sport of kayaking has become very popular these days, and more and more people are jumping into the water, paddles in hand ready to take on their next adventure. There are lots of things to take into consider when choosing a kayak, however.
Different Types of Kayaking
First and foremost, you need to think about what type of kayaking you'll be doing. Will you be whitewater kayaking, sea kayaking, kayak touring, sit-on-top kayaking, surf kayaking or just recreationally kayaking? This is important to know because one can't go out and buy a sea kayak and expect to whitewater kayak in it so you have to make sure you're choosing a kayak for the right reason.
The Kayak Make
The next question you should consider is what should the kayak be made out of? A lot of times beginners will want to purchase the best boat they can get their hands on, however you should really consider starting out slow and continually upgrading down the road. For this reason it is probably best for you to purchase a plastic kayak to start and the reasons for this are they are durable, less expensive and heavier than the composite ones.
Size of the Kayak
In correlation to the make of the kayak, you'll also want to evaluate what size you need to buy as well. While there are many different kayaks, the size generally refers to the volume, length, width and weight of the kayak. Pay very close attention to the weight range of the kayak as well as the comfortability of it. You do not want to be sinking in the water while kayaking downstream, or feel crammed inside of the boat either.
Finally, decide if you want any other types of kayak accessories to come with your boat. You can purchase kayaks with different riggings, types of hatches, backrests or storage compartments. Find and analyze all the options in this department and choose the one that best suits your style.
Kayaking is a great way to spend your summer or warmer weather months. You can take a kayak in a pond, lake, river, and many other bodies of water. If you're an avid camper and outdoors-person, investing in a kayak may be a good choice.
Contact Suwannee River Rendezvous at 386-294-2510 today or visit us online for more information about our camping and summer adventures!