There are few activities in life as fulfilling or relaxing as enjoying some quality fishing, and if you can do it in such a beautiful place as Suwannee River then that is even better!
Here at Suwannee River Rendezvous, anglers can enjoy some of fun in the sun right alongside this famous river as you try to catch some of the most sought-after fish in the area. There is plenty of great fishing to be had with Suwannee bass, largemouth bass, channel catfish, blue gill, sunfish and more up for grabs within the river's waters.
Fishing is a splendid way to bond with your loved ones or just get away from it all and spend some time soaking in the glory of nature as you let your worries slip away. It is also a chance for the little ones to experience a connection with nature that they just can't get in the real world. But don't take our word for it – check out our gallery of fishing fun featuring adventurers of all ages!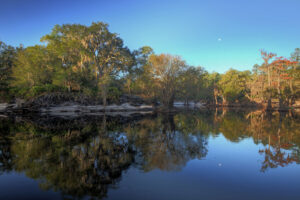 No License? No Problem!
As with all forms of hunting, some restrictions and regulations must be met. When fishing here in Florida, a fishing license is required – most of the time, anyway, as the state Fish and Wildlife Conservation Commission offers a few days each year for license-free fishing. The free freshwater days are the first Saturday and Sunday in April and the second Saturday and Sunday in June, so if you're thinking of making a trip from out of state on those dates, make sure to bring your poles and fish without needing a license. Don't forget: Fishing restrictions still apply on those dates, so be sure to review the state rules on catch and size limits.
Nothing Beats Fishing at Suwannee River Rendezvous
In the end, it is important to remember that fishing at the Rendezvous is really all about fun, relaxation and the love of the sport. Our property is rich in its history and is the perfect place for people around the country to come to have their own little fishing adventure and relaxing respite in Floridian paradise.
Plan your fishing and camping trip at Suwannee River Rendezvous today. Learn more or book your stay by calling us at 386-294-2510.