If you're an avid tent camper, you know the struggles of laying on the ground and dealing with weather elements from time to time. However, there is a great alternative that can be less expensive than tent camping, which is investing in a camping hammock. Hammocks can be more comfortable than laying on the ground, which is good if you don't want to be sore every morning of a camping trip.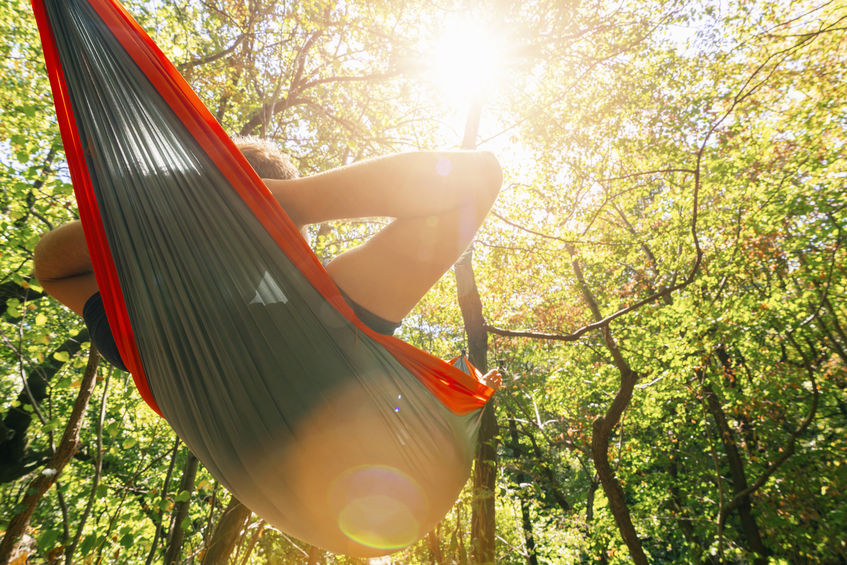 Here's How to Beef Up Your Hammock Set-Up
Most hammocks come in two options of either a single nest or a double nest system with carabiners and a suspension system. If you're looking for more room, a double nest hammock is probably your best bet. These are the basic features of the hammock, but there are add-ons you should think about investing in if you want to make hammock camping a regular enjoyment.
Hammock Accessories that Benefit Your Camping Experience:
Rain Fly – To combat some of the weather elements, a rain fly will help keep the rain off the hammock. Rain flies come with a suspension system as well, which will hover over your hammock keeping the rain clear.
Mosquito Net – A bug net is also a great option to make sure the "bed bugs" will stay away from you during the night.
Under Quilt – For some of the colder nights camping out in the mountains, an under quilt can be added on for extra warmth underneath the hammock material.
The Benefits of Camping Hammocks
Camping hammocks provide you with better comfort when camping. You don't have to worry about a sore back with lying on the ground anymore in a tent. It also is versatile picking a spot to camp. It's easier to carry on your back if you're going backpacking. As long as you have two trees to strap onto, you're in good shape. It's also easily portable.
---
Suwannee River Rendezvous is a great place to go and camp in Mayo, Florida. We have a plethora of outdoor activities including hiking, fishing, water activities, and much more! If you're looking for a great place to camp in Florida, contact Suwannee River Rendezvous at 386-294-2510 today or visit us online for more information!