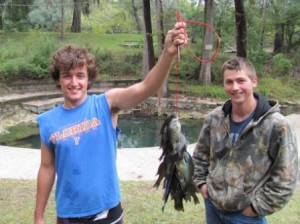 One of the most popular activities our guests like to take part in is the amazing fishing on the Suwannee River. What's so great about this sport is that folks of all ages can enjoy it! Whether you're a beginner who's just looking to have a little fun on the water, or an avid fisherman in search of some excitement, you're bound to find what you're looking for on the river!
For those of you who are just starting out though, we've got a little bit of advice to help you get the most out of your experience:
Make sure you have the Right Equipment
There are plenty of great brands that carry rods and reels that are specially-made to help make things easier for someone who is just beginning. Check them out at your local sporting goods store and see if anything peeks your interest.
Choose the Right Bait
Your basic worm on a hook can go a long way for a relaxed day on the water, but consider doing some research on which type of bait attracts the particular fish you're looking to catch. Just like you're attracted to different types of food, fish are attracted to different kinds of bait.
Check the Weather
You may be praying for sunny skies but sometimes, it's the overcast that leads to a great fishing day.
Dress Appropriately
Boots are your new best friends. Make a note of it.
Bring Food
It could be a while before you catch anything on your first day. Be sure to pack a snack!
Bug Spray
Need we really say more?
Once you're ready to take on some serious fishing fun, be sure to give Suwannee River Rendezvous Resort & Campground a call! We'd love the opportunity to watch you hone your skills as you make your way to pro fisherman status!