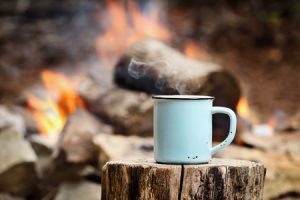 If you're like us, you need your morning cup of coffee whether you're at home or on the road. The good news is, making coffee when you're camping is easier than you might think. Check out these four clever ways to make coffee at your campsite:
Cowboy Coffee
All you need for this classic method of campsite coffee brewing is a kettle and a campfire. To make cowboy coffee, boil water in a kettle, then remove it from the heat source and let it cool enough to stop boiling (about 30 seconds). Then, stir in two tablespoons of coffee grounds per serving. Let it rest for two minutes, then stir again and let it rest for two more minutes. Once the grounds settle to the bottom, pour the coffee as slowly as possible into a mug to minimize grit.
MacGyver Coffee
If you really don't like drinking your coffee unfiltered, you can make coffee at your campsite using a thermos, a fastener such as a rubber band and a mesh coffee filter or cotton cheesecloth. You can find detailed instructions for this method here.
Coffee Bags
You can either buy coffee bags (essentially tea bags for coffee) or make one yourself with a coffee filter and twine. All you need to do is throw it in a cup of hot water to brew your coffee.
French Press
No need to bring your French press from home—these days you can find French press coffeemakers designed specifically for camping.
There's no better place to enjoy a fresh cup of coffee than the Suwannee River Rendezvous campground and RV resort. With plenty of hiking, swimming and entertainment options to enjoy, you're sure to having a relaxing, refreshing time when you stay with us. To book your next trip, just give us a call or contact us online today!