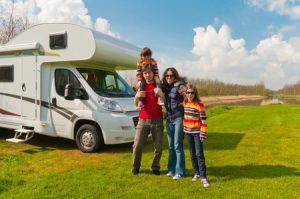 Spring has arrived, and you know what that means—the start of RV camping season! And of course there's no better place for a camping trip than Suwannee River Rendezvous in Mayo, Florida. We've got warm weather, a freshwater spring, the nearby Suwannee river for kayaking and canoeing, and over 50 years of experience in the hospitality industry. If all of this sounds good to you, it's time to get your RV ready for a trip to the Suwannee River! Here's how:
Give it a good wash.
Just like your home, your RV will need a good spring cleaning. Remove any dust, dirt or grime from your RV using a gentle car soap or RV wax-and-wash soap. Don't forget the undercarriage! Then, polish all the chrome components of your RV and clean and shine the wheels.
Inspect the exterior.
Do you spot any missing or cracked sealant on the roof or sidewall seams? It's important to replace any faulty sealant so that no water can seep into your RV during those spring rains.
Examine the tires.
If your tires need replacing, it's better to do it before you hit the road. Make sure all tires are properly inflated and use the penny test to make sure they have enough tread for a long journey.
Prepare the battery.
Disconnect the battery and clean it with a corrosion-resistant cleaner and lubricant. Keep in mind that, on average, lead-acid car batteries last about four years.
Check your fluids.
This includes brake fluid, antifreeze and transmission, hydraulic and windshield washer fluids. It's typically a good idea to invest in an oil change before you hit the road as well.
Freshen up the interior.
Finally, air out the RV and give all its interior surfaces a thorough wipe-down.
Now that your RV is ready for the trip, it's time to book your spot at the Suwannee River Rendezvous. Reserve your campground online or give us a call today at (386) 294-2510 to learn more!