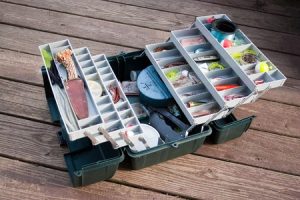 You've got your reel and your bait, and you're excited and ready to head out for your fishing trip.
But wait! A little extra preparation can go a long way toward helping you have a good time on your adventure. Make sure you keep a few extra tools in your tackle box so you can be ready for whatever the river brings your way!
Needlenose Pliers
Sometimes you need a little help to get your bait and tackle ready to go. Sometimes it's tough getting a hook from your fish's lips – especially if it has long teeth. Sometimes, your cast might not go as planned, leaving you with a hook caught in your jeans. A good pair of needlenose pliers can help you in all these situations and more.
Fillet Knife
This one may go without saying. A good rust-resistant knife can help you clean fish, cut lines, slice bait, and accomplish any number of other common tasks you might face during a fishing trip.
Insect Repellant, Sunscreen and Pain Relievers
These items are guaranteed to come in handy, but they can be easy to forget. Don't let your day be ruined by mosquitos, sunburn and headaches. You can stop these issues in their tracks, even if you're miles away from your medicine cabinet.
Lip Grip with Scale and a Ruler
Most anglers don't intend to ignore length and weight restrictions when they go fishing, but let's face it: sometimes even our best estimates can be a little inaccurate. Pack a good lip grip with a scale to measure your catch's weight, and a cheap old ruler to check its length. You can even take photos with your ruler for friends who may doubt your fish tales later!
Flashlight
This is a great item to have around on evening fishing trips, especially when you wait just a little too long to call it quits for the night. A little extra light can go a long way.
First Aid Kit
No one plans on getting hurt, but cuts, bumps and bruises are a fact of life. It's always better to be safe, rather than sorry!
Gloves
While you're at it, go ahead and prevent those cuts and scrapes with a good, strong pair of gloves. It's nice to have a first aid kit, but it's better if you don't need it in the first place.
Ready to put your tackle box to good use? Give us a call today to schedule your next fishing trip on the beautiful Suwannee River!