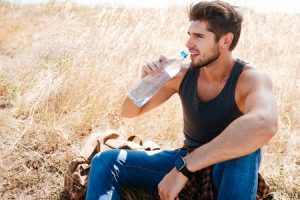 It's only March, but before too long that famous Florida heat will be returning to the Suwannee River. Hot, humid weather can make tent camping a little challenging during the peak months of summer, but it doesn't have to keep you from having a good time. In fact, with a little care and preparation, you can camp comfortably and enjoy yourself even on the warmest days of the year!
Here are some tips to help you stay cool:
Stay Hydrated
Of course, this is the most important thing to keep in mind on especially hot days. Drinking plenty of water will not only prevent you from getting dehydrated, but also help to regulate your body temperature so that you don't overheat. Keep a bottle of water on hand at all times, and consider packing some refreshing snacks like cucumbers and watermelons for the trip as well.
Stay Dry
Circulation is key for keeping your tent cool overnight, but it can be problematic if you get surprised by a summer rainstorm. If your tent's rain fly makes it feel hot and stuffy inside, create a canopy over your tent by tying a tarp to a couple of nearby trees instead. This will keep your tent dry without blocking air flow and impeding circulation.
Dress Light
How hot you feel depends largely on what you're wearing, and certain materials perform better in heat than others. In general, you should avoid clothes made of cotton. For shirts, consider a merino wool base layer that washes well and is light to wear. These days, you can also find active-wear pants that are soft, light and capable of wicking away excess moisture. Be sure to bring a good pair of waterproof shoes, too; if you're sweaty, you don't want your feet to be.
Getting ready to plan this year's summer camping getaway? We'd love to see you at Suwannee River Rendezvous. If you're nervous about the heat, you can even stay in one of our air conditioned vacation homes! Give us a call or contact us online today to learn more.