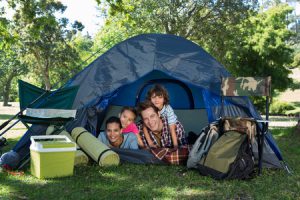 Has your family's old tent seen better days? If so, you should consider replacing it with a new tent that will get you excited about camping again. Today's tents are lighter, more durable and easier to set up than ever.
Check out a few tips for finding a tent that's right for you below!
Look for a tent that's large enough to meet your needs.
Are you looking for a tent that's just large enough for you, or will your entire family be sleeping inside the tent with you? Tent manufacturers tend to be pretty conservative in their capacity estimates, so it's typically best to err on the side of caution and choose a tent that's slightly larger than what you think you need. This is especially true for tall people.
If it's just going to be you and one other person in the tent, for example, consider shopping for a three-person tent to make sure you have enough room for you and all your gear.
Consider the materials and construction.
A tent's construction will affect its waterproofing and its ability to protect you in extreme weather conditions. In general, it's a good idea to look for a tent that has a combination of double stitching and folded seems. A tent with these two features will be far less prone to tearing and leaking during rainstorms.
You should also pay close attention to the seasons that the tent is rated for. Three-season tents—which are designed for use in the spring, summer and fall—are probably the most popular and cost-effective option for most campers. Four-season tents are ideal for camping in cold climates, but they are heavier and more expensive than what most weekend campers need, especially here in Florida.
Make sure the zippers are built to last.
During a camping trip, you'll probably be moving in and out of your tent quite a bit. With this in mind, you should look for a tent that has rugged, heavy-duty zippers that won't break after just a few camping trips. There's nothing worse than trying to fix a broken tent zipper in the middle of a camping trip.
Ready to put your new tent to good use? We'd love to have you join us here on the beautiful Suwannee River! Just give us a call or contact us online to reserve your campsite today!