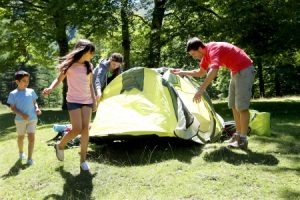 Don't let sweltering temps keep you from camping in July and August. Make the most of the season with these tips to help you stay cool during your next summer camping trip.
Take Your Tent Apart During the Day …
If you've ever retired to your tent after a long day in the sun only to find that it feels like an oven, you probably know that your tent acts like a greenhouse during the daylight hours, trapping heat from the sun's rays. Take it apart when you're not sleeping to prevent this from happening.
… Or Skip the Tent Altogether
Why not switch things up this summer and sleep in a hammock? You'll stay cooler and enjoy the twinkling stars overhead as you drift off. Just be sure to check the weather to make sure you won't get caught in the rain overnight.
Use a Pop-Up Sunshade
You can use a sunshade to divert the sun's rays away from your tent or social area, making it more comfortable to sleep past sunrise and be outdoors during the day.
Wear Light-Colored Clothing
Dark colors absorb solar radiation and make you feel hotter. Light colors, on the other hand, can keep you cool by reflecting the sun's rays.
Stay Hydrated
The more water you drink, the cooler you'll feel, while avoiding heat-related maladies like heatstroke and heat exhaustion.
Bring a Portable Fan
Make the heat and humidity more bearable when you BYOB (bring your own breeze). These days, you can even find portable fans that plug right into your phone and use its battery for power!
Now that you know how to stay cool when the mercury rises, it's time to book your next summer camping trip. If you enjoy swimming, kayaking or canoeing, you'll love staying at Suwannee River Rendezvous. Give us a call at (386) 294-2510 to book your spot today!