Try our On Line Reservation System!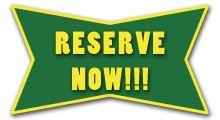 ***Lodging Rates***
A-Frame ……………………………. $190.00 night / $1145 week
Chalet ………………………………. $190.00 night/ $1145 week
Tree House ……………… $190.00 night/ $1145. week
Two night minimum stay with the A-Frame, Chalet or Tree House
Single night stays during the week are available with a $40 cleaning fee for the A-Frame, Chalet or Tree House.
No cleaning fee on any other rental.
Log Cabins ……………………………. $110.00 night / $665 week
River Rooms ………………………. $85.00 night / $515 week
Hill Top Rooms ……………………. $70.00 night / $425 week
Lodge Rooms……………………… $70.00 night / $425 week
Lodge Room #4 "The Suite"… $110.00 night/ $665 week
Spring House ………………………. $85.00 night / $515 week
Pet Fee $10.00 per stay in lodging rooms No charge for pets in the campground.
Cancellations can be made up to 7 days prior to stay. Any Cancellations less than 7 days will be charged for 1 day. Cancellations 24 hours or less will be charged for 2 days. All Cancellations must be made by phone.
Prices Subject to Change.
Rules for the Suwannee River Rendezvous
Quite time is from 11:00p.m. To 7:00a.m. (Don't be waking up Grandma Susie now)
Check in 4:00pm for lodging and 2pm for RV/tent sites.   Check out 11:00 pm
Grandpa Frank says "we don't have any ATV approved trails here at the Rendezvous." Sorry.
Please keep all fires in the fire pits.
All Pets must be on a leash and Please clean up after your pet. (Grandma Susie will not be happy if she has to do it.)
Pets that are noisy or aggressive must be left home. This is for everyone's safety and to ensure that everyone enjoys themselves at the Rendezvous.
Please watch your children at the river and spring. There is no lifeguard on duty and you swim at your own risk.
Fishing is allowed on the bank, boat ramp, off the dock and at the spring cut. No fishing in the spring itself. The spring is for swimming only.
Lafayette County is Dry. No alcohol over 6% is sold here and No Alcohol is sold on Sunday. You can drink it, just can't buy it.
We are a family establishment so please use alcohol in moderation. Open bottle at your campsite or rental unit only. Thank you for your understanding.
All of our rental units are non-smoking. Smoking is permitted on all decks and porches. We charge a $150 cleaning fee if you smoke in the rooms. Please dispose of your "butts" in the containers provided. (Grandma Susie and Grandpa Frank really do not want to pick up a slobbered on cigarette butt.)
Please leave the furniture in the rooms. The squirrles and raccoons have their own.
Fireworks and firearms may not be used here at the Rendezvous.
The Rendezvous is in the process of going GREEN. We have recycling contains for aluminum cans, plastic bottles and glass. Please help us save the planet by separating your trash. Thank you.
Grandma Susie and Grandpa Frank thanks you for coming and please enjoy yourself here at the Beautiful Suwannee River Rendezvous Resort and Campground!