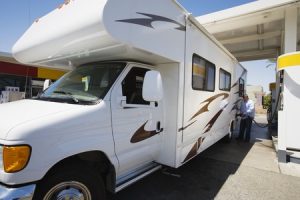 RVs make it easy to hit the road and explore, but as with any trip, the costs can add up. The good news is, you can stay within your budget by keeping these money-saving tips in mind during your next RV adventure:
Save at the Pump
Minimize your fuel expenses by using apps like GasBuddy to find the cheapest nearby gas prices, or by using a credit card that offers rewards on gas purchases.
Drive Smart
Did you know that the way you drive can have a noticeable effect on your gas mileage? Don't speed, make sure your tires are inflated to correct pressure and avoid driving aggressively. Maneuvers like excessive braking and rapid acceleration burn up gas fast.
Channel Your Inner Chef
One of the advantages of having an RV is that you have a built-in kitchen! Skip the fast food—it's not ideal for your health or your budget. Visit grocery stores and farmers' markets instead to find ingredients to make your own meals. Have leftovers at the end of the day? Keep them for tomorrow and save even more money!
Travel During the Shoulder Season
Fall is just around the corner, and it's the perfect season for an RV trip. Campsites that are pricier in the summer often lower their prices during the autumn months, and you'll still get to enjoy beautiful weather in most parts of the country.
Looking for an affordable, comfortable campsite for your next RV trip? You've come to the right place! At Suwannee River Rendezvous, our RV resort comes equipped with a variety of amenities including free Wi-Fi and pool access! Give us a call at (386) 294-2510 to learn more or to book your reservation today!