We have a total of 136 full hook up sites.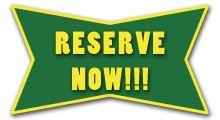 Our  RV Resort is designed for the extended stay visitor.  Snow Birds and full timers will find plenty to do at the Rendezvous.
The smallest site in the RV Resort is 40X80 so we are able to fit any size RV in the new Resort.  The original campground is still available for  those guests with the smaller RV's (under 25′) but all guests with RV's are welcome to stay in the new RV Resort.
The Pool complex is Beautiful!!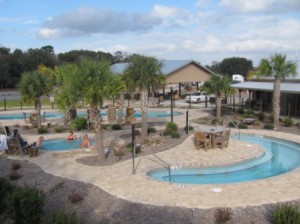 It is a beautiful complex and we can't wait to share it with everyone.  The large swimming pool is 65′ long and is 3-7 feet deep.  The small spa seats 9 and the large spa is 40′ and seats 24.  The large spa is kept at 95 degrees.  Just perfect to soak away the stress of the day.  The Pool complex is open and heated year round.  We do close the pool complex when the day time temperature does not reach 60 degrees.
Canoe or Kayak down the Suwannee on your boat or ours.  Swim in our heated pools.  Visit the numerous springs in our area.  Play Bingo  on Friday night.  Sing Karaoke and play trivia on Saturday night.  The lodge is available for cards, games, and parties.  Let us do the cooking at the Cookin' Shack Friday-Sunday.  Walmart is 30 min. away.  The town of Mayo has a grocery store, hardware store, two dollar stores, pharmacy, post office and several restaurants only 10 minutes away.
Large lots with 30/50 amp sites.  A Picnic table and fire ring are included along with WiFi and Cable TV.  All of this for $400 a month plus tax and electric.  A few of the back-in sites have a shade shelter at no extra charge.  One site has a screen room with electric and fan.  There is a small extra charge for this premium site.
RV Rates:
Premium Full hook-up 30/50 amp with Cable TV: $40 per night, $175 per week, or $400 monthly + Electric
Free WiFi at the lodge.  We have the WiFi system at the new RV resort up and operational.  Cable TV is available in the upper RV resort
25% discount to active or retired military on daily RV rate.
25% discount to seniors 60 and over on daily RV rate.
Only one discount or coupon may be used on any one visit.
Discounts are for daily rates only and are not available on Saturdays and Holiday Weekends.
We are a Passport America Campground.  Members will receive the discount when they present their card.  Passport discounts are for a maximum of 2 days and are not available on Saturdays and Holiday weekends.  Memberships are available at the office.
All of the discounts are only given when you call the front desk.  The on-line booking service is not able to give any discounts at this time.
Rules for the Suwannee River Rendezvous
Quiet time is from 11:00p.m. To 7:00a.m. (Don't be waking up Grandma Susie now)
Check in 4:00pm for Lodging and 2pm for RV/tent sites.  Check out 11:00 am  (Call for possible early check-in the night before)
Grandpa Frank says "we don't have any ATV approved trails here at the Rendezvous." Sorry".
Golf Carts are welcome on the Roads at the resort.  Licensed drivers only please.  11pm Quiet time includes the use of golf carts, gas or electric.  Please provide proof of insurance when you check in.
Please keep all fires in the fire pits.  All camp fires must be supervised at all times.
All Pets must be on a leash and Please clean up after your pet. (Grandma Susie will not be happy if she has to do it.)
Pets that are noisy or aggressive must be left home.  This is for everyone's safety and to ensure that everyone enjoys themselves at the Rendezvous.
Please watch your children at the river and spring.  There is no lifeguard on duty and you swim at your own risk.
Fishing is allowed on the bank, boat ramp, off the dock and at the spring cut.  No fishing in the spring itself.  The spring is for swimming only.
Lafayette County is Dry.  No alcohol over 6% is sold here and No Alcohol is sold on Sunday.  You can drink it, just can't buy it.
We are a family establishment so please use alcohol in moderation.  Open bottle at your campsite or rental unit only.  Thank you for your understanding.
All of our rental units are non-smoking.  Smoking is permitted on all decks and porches.  We charge a $150 cleaning fee if you smoke in the rooms.  Please dispose of your "butts" in the containers provided (Grandma Susie and Grandpa Frank really do not want to pick up a slobbered on cigarette butt).
Please leave the furniture in the rooms.  The squirrels and raccoons have their own.
Fireworks and firearms may not be used here at the Rendezvous.
The Rendezvous is in the process of going GREEN.  We have recycling contains for aluminum cans, plastic bottles and glass. Please help us save the planet by separating your trash.  Thank you.
Grandma Susie and Grandpa Frank thanks you for coming and please enjoy yourself here at the Beautiful Suwannee River Rendezvous Resort and Campground!