Camping in the summer at Suwannee River Rendezvous requires a different type of camping experience. Since summers are mostly hot in Florida, you must adjust your camping materials and equipment to ensure an enjoyable camping trip here.
One of the most important tips when it comes to camping in general is to always pack light and only bring the essentials. Now, you don't have to stick to a boring camping trip, but don't over pack unnecessary items. Here are some tips on packing light for your summer trip.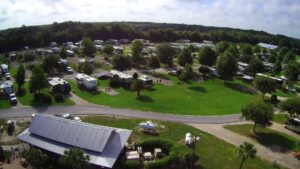 Camping Gear
If you're planning to bring an RV, then your packing task will much more flexible since you'll have the extra storage space. This is good for longer camping trips. If you are planning on lodging or even tent camping, you'll have to make sure you're pretty much only packing the camping essentials.
Pack light clothes due to the weather being hot
Bring water jugs to be refilled when you need
Tent, camping chairs, sleeping bags
Toiletries
Raingear, Hiking Boots, Bathing Suit and other water gear
First Aid Kits
Miscellaneous Gear
Make sure you are packing the proper camping equipment and gear for your camping trip in Florida. Packing only the necessary items should be your top priority, but it doesn't mean that you have to limit your gear. For the weather down in Florida, it's important to pack other items that can help with your trip. Bug spray, protective clothing, and sunscreen are just to name a few extra items that you should bring.
Planning Your Days Out
One of the biggest things campers don't plan out is their days while on the camping trip. This is one of the most important aspects of planning out the adventure. If you're able to plan each day (without too many restrictions), you can make sure that you are packing the right equipment for those days. We want to make sure that you don't restrict your flexibility on the trip, though. Camping is about relaxation and enjoying the great outdoors, so you don't want to have a strict itinerary.
At Suwannee River Rendezvous, we can provide you with the best camping for you and your family here in Mayo, Florida. If you're looking to bring your family or friends down to Florida for some adventure on the river, contact Suwannee River Rendezvous at 386-294-2510 today or visit us online for more information!