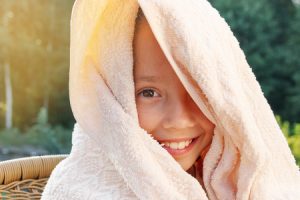 Practicing good personal hygiene can be challenging when you're on a camping trip. You want to keep yourself clean and healthy, but it can be tough when you have limited access to water and bathroom supplies Today we'll look at a few helpful hygiene tips to keep in mind during your next camping adventure.
Pack the right supplies.
You may not be able to pack up your entire bathroom and bring it with you, but you can bring a few essential personal hygiene supplies that will keep you clean in a pinch. Make sure you have hand sanitizer, biodegradable soap, a toothbrush and toothpaste, unscented baby wipes and toilet paper before you leave home. Steer clear of bringing deodorant (it could attract animals to your campsite), scented soaps and shampoos, razors and anything else that could harm the ecosystem around your campsite.
Find a way to bathe.
There are several ways you can bathe yourself while camping. You can jump into a lake or river to wash dirt and oil away from your skin (just don't use soap in the water as it could contaminate it). You can also take what's called a trail shower by using biodegradable soap, a washcloth and a few liters of water (just don't take one too close to a natural water source as, again, it could contaminate the water). Or, you can simply give yourself a sponge bath with biodegradable soap, water and a towel. Regardless of which option you pick, it's important to wash yourself in some form or fashion.
Bring water to launder your clothing.
You won't be able to do large loads of laundry at your campsite, but you can wash things like underwear and other clothing staples with a little water and biodegradable soap. This will keep you smelling fresh and minimize the amount of extra clothing you need to bring on your trip.
If tent camping isn't your speed, you can find a variety of comfortable lodging options at our resort and campground as well! These accommodations come equipped with all the comforts of home like HVAC systems, WiFi access, cable TV and more. To schedule your reservation, feel free to give us a call or contact us online today!