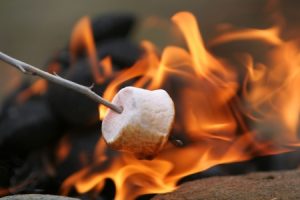 Whether you're roasting marshmallows, telling scary stories or just enjoying the company of family and friends, there are few things we love more than spending some quality time around a campfire. It's important to remember, though, that campfires can become dangerous if you're not careful. In the spirit of Smokey, today we'll share a few important campfire safety tips to keep in mind on your next camping trip.
Pick the right place for your campfire.
Campfire safety should really start before you ever strike a match. Prior to building your campfire, look around to make sure there aren't any low-hanging branches or brush nearby that might ignite from a stray spark. If you're staying at a campground or state park, you should always use established fire pits whenever possible rather than trying to build one of your own.
Keep water and a shovel handy.
You never know when a strong gust of wind might blow and turn your little campfire into a roaring blaze. With this in mind, you should always keep a bucket of water and shovel nearby in case you need to smother the fire in a hurry. You can even wet the area around your campfire to prevent sparks from catching in the grass.
Avoid leaving the campfire unattended.
From the moment you start a campfire, you should keep an eye on it at all times. If you have to leave your campfire for a few minutes, make sure there's someone else nearby to tend to it while you're gone. Before you go to bed, smother the fire with ash and water and spread out any remaining embers to prevent them from reigniting.
If you've been missing the warm glow of a campfire this winter, we'd love to have you come visit us at our campground in sunny Florida. Book your reservation today or give us a call at (386) 294-2510 to learn more!