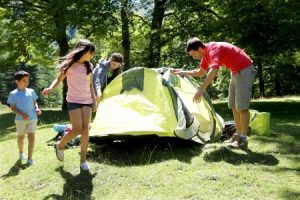 Summer presents ideal opportunities to peel your kids from their screens and shuttle them off to participate in a timeless past time: a retreat in the forest, a camping trip. This is a great opportunity to share our enthusiasm for the great outdoors with our children, and allow them to experience the joy of camping. As you might suspect, however, camping with children is a little different than camping with a group of your adult friends. That's why we put together some tips to ensure the process is fun for everyone involved.
Leave the electronic devices at home.
Nothing will detract from the experience of camping more than having digital devices laying around for entertainment. Both you and your children will be tempted to pick them up and fidget with whatever game or app you have at hand, distracting you from other experiences that can only be had while camping.
Involve your kids in the planning process.
Let them help plan the itinerary, find the campsite and pack for the trip. Kids love brainstorming with adults and, letting them have a say in the plan is a good way to get them excited about camping.
Assign tasks for your kids during the camping trip.
Children love to play but, they delight in being assigned a purpose.  Let the kids unfold the tent, clip the body onto the poles, send them on an urgent mission to collect firewood and have them perform other duties as assigned.
Make sure you have a well-stocked first aid kid.
Minor accidents such as cuts, scrapes and bee stings are more likely to occur in the wild than in your own backyard. Likewise, it's important keep first aid essentials readily accessible throughout the duration of the outing.
Plan for the rain.
As much as we might hope for crisp clear skies and sunlight pouring through tree tops, rainy weather is a fact of life. With this in mind, it's worth bringing a deck of cards or other games you can play in a tent on a rainy day.
You can also find more games, puzzles and family-friendly activities in our main lodge. These activities include karaoke, bingo, trivia and even pigeon races!
Stock your camp with pre-made snacks.
You and your children will inevitably burn a lot of energy while partaking in outdoor activities. Don't forget to bring plenty of snacks to keep your stomachs full. After all, the nearest grocery store might be miles away from your campsite.
Be flexible.
The most effective way to enjoy a camping trip with your children is to keep an open mind. Be open to changes in your plan, and circumstances that you didn't necessarily anticipate. Remember: camping is an adventure!
Camping is an ideal way to expand your child's perspective of the world and reignite their natural kinship with nature. Plan ahead, but be flexible throughout your journey. These are memories you and your family will cherish for years to come.