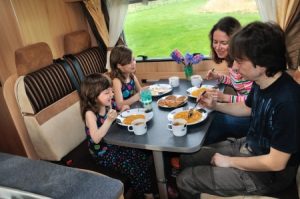 At the Suwannee River Rendezvous, we welcome RV travelers from all over the country. Our smallest RV site is 40 by 80 feet, so we can accommodate RVs of all shapes and sizes. Visitors are welcome to park either on the original campground, or at the new Rendezvous resort, where guests can wake up to our beautiful pool complex and spa.
But as every RV owner knows, it's important to protect your vehicle against unwanted intruders when you're on the road. Today we'll look at a few security tips to help you get started.
Upgrade Your Locks
An RV is more than just a mode of transportation; it's also your home away from home. With this in mind, consider upgrading your RV's standard locks with high-quality padlocks or cylinder locks that can't be easily broken. It's generally a good idea to add locks to your hitch and steering wheel, as well. That way, you can enjoy your trip without having to worry about whether or not your belongings are safe.
Invest in Security Lights
Motion-activated security lights are great theft deterrents at night. You may even use similar lights to protect your house when you're not on the road. Modern LED security lights are inexpensive, energy efficient and easy to install. They're also bright enough to scare off anyone who might think about trying to break into your RV under cover of darkness.
Park Smarter
With an RV, you should back into campsites to make it easy to get out, right? Well, not necessarily. Pulling forward into campsites can make it much harder for thieves to make a quick getaway with your vehicle. It may add a few minutes to your exit, but your RV's security is worth it.
Next time you're traveling in Florida, be sure to visit us on the Suwannee River! Reserve your site online, or give us a call today to learn more.