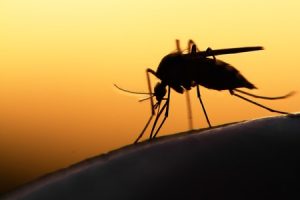 Mosquitoes are a fact of life outdoors. They can smell the carbon dioxide in human breath from over 100 feet away, so it's no wonder they flock to campsites this time of year. However, there's no need to let these pesky creatures ruin your outdoor fun with itchy bites. Here are a few clever ways to deter mosquitoes during your next camping trip.
Burn sage.
Mosquitoes hate the smell of sage, so if you add some to your campfire they'll stay away. As an added bonus, ticks dislike it too! The sage smell will linger on your skin and clothing after the fire burns out, giving you extended protection.
Pack dryer sheets.
Even if you're not planning on doing any laundry, pack some dryer sheets on your next camping trip. Mosquitoes and bees will avoid them, so place them under tablecloths, near food and in your pockets.
Sprinkle some mouthwash.
Mint is another smell that mosquitoes hate. After using some mint-flavored mouthwash, sprinkle it around your campsite to keep them away.
Light a candle.
Not only do citronella candles add ambiance to your campsite; they also keep mosquitoes at bay! Best of all, a single candle can offer hours of protection against mosquitoes.
Rub yourself with citrus peel.
Mosquitoes aren't very fond of citrus oils, either. After you peel an orange or lemon, rub your skin with the peel to deter mosquitoes. This only works with fresh peel, so do it right away.
Now that you know how to keep your campsite mosquito-free, it's time to book your next adventure! We'd love to have you come visit us at the Suwannee River Rendezvous campground and RV resort this summer. Just give us a call at (386) 294-2510 or contact us online today to learn more!