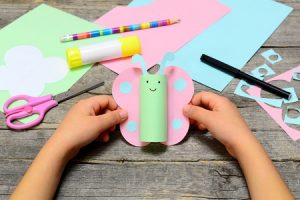 Camping can be a lot of fun for kids of all ages, but it's always a good idea to have some crafts and activities on hand to prevent young children from getting bored during a weekend camping trip. Check out a few fun and easy craft ideas to try on your next camping trip below!
Camping Bingo
Bingo is a classic game that the whole family can enjoy. To make it even more fun, you can play camping bingo and incorporate all the sights and sounds of camping into the mix. This is a great activity to help pass the time during a passing summer thunderstorm.
Toilet Paper Roll Binoculars
Your kids will have the opportunity see all kinds of amazing things when they go camping. You can encourage them to look around and make the most of the experience by equipping them with a pair of homemade binoculars! Make a simple pair by binding two toilet paper rolls together with twine and decorating them with stickers and illustrations. They'll love looking for birds and other wildlife with their personalized binoculars.
Camping Scavenger Hunts
If you really want to keep your kids occupied, you can send them out on a camping scavenger hunt. Ask them to spot things like flowers, birds, insects and ferns. Chances are, they won't have to travel far to find all sorts of plants and animals around your campsite.
At Suwannee River Rendezvous, we offer a variety of kid-friendly activities that are fun for the whole family. You can take a swim in our beautiful pool complex, or sing your favorite songs at karaoke night in the Lodge. Give us a call to learn more, or book your reservation online today!