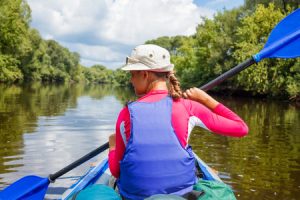 Kayaking is an ideal way to get in touch with one of the most elemental forms of water travel, and depending on where you choose to kayak, the experience can range from peaceful to thrilling.
If you've never been kayaking before, though, you may have some lingering questions about what to expect on your first trip down the river. Like any water sport, kayaking takes some time to get the hang of, but with a little practice and preparation you'll be ready to get out on the water.
Mind Your Posture
Do your best to sit upright with your back straight, as leaning forward or slouching will give you less control over your movements. Your heel and ankles should be touching the hull and the balls of your feet should rest comfortably against the footrest.
These contact points allow your body to distribute the strength needed to maneuver your paddle in the most effective manner. Contrary to popular belief, paddle strokes rely mostly on your core rather than arm strength.
Your paddle blade should enter the water near where your feet are in the kayak. Don't grip the paddle too tightly, keep it relaxed. Your elbows, meanwhile, should stick out straight so that your arms are roughly perpendicular to your torso.
Practice Basic Movements
It's a good idea to practice maneuvering your kayak before committing yourself to an excursion down a river. Controlling the direction of your kayak takes a little bit of getting used to before it becomes second nature.
The kayak will be inclined to shift in the direction of the paddle blade, so you'll need to make firm, even strokes on each side to move in a straight path. The opposite holds true if you want to make a turn, and the sharper the angle of your paddle stroke, the sharper the angle your kayak will turn. Practice paddling straight, turning right and turning left until you feel totally in control of where your kayak's headed.
Be Properly Equipped
If you're going to be kayaking in rough waters, it might not be a bad idea to invest in a wet suit. This way, you'll stay dry even if you get splashed or end up in the water. With that said, sporting a personal flotation device is absolutely essential, regardless of the conditions you're kayaking in.
It's also advised that you bring some sort of communication device like a walkie-talkie in case the current leads you astray and you need help reconnecting with your party. Whether you're a beginner or a seasoned veteran, safety is integral to having a good time.
Now that you know what to expect, we'd love to have you come down to the Suwannee River and join us on a kayak trip! Give us a call to book your reservation today.