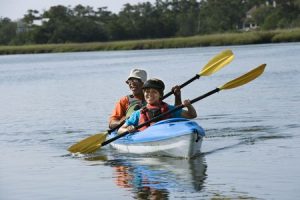 There's no better way to explore the Suwannee River than by canoe or kayak. Paddling down the river is a uniquely relaxing experience that we look forward to every year. It also offers a great opportunity to get an up-close look at the local wildlife in our area.
But to make sure you have a good time, it's important to keep a few important safety tips in mind when you're out on the water.
Don't Drink and Paddle
Stowing a few beers in your canoe might seem like a nice idea, but trust us: alcohol and boating don't mix. Inebriation will make it much harder to react quickly if you get into a dangerous situation on the water.  In fact, alcohol is the number one contributing factor in recreational boating deaths.
Rather than drinking while you paddle, wait till you get back to shore to enjoy a well-earned beer and a hot meal.
Always Wear Your Personal Flotation Device
Keep your life jacket on at all times, even if you're a strong swimmer. Not only will it keep you afloat in strong currents, it will also make you more visible to your fellow canoers and kayakers. This way, if your boat tips over, you can get back in sooner rather than later.
Dress for the Weather
Wet clothing can cause you to lose body heat at a rapid pace, making it possible to get hypothermia even in relatively warm weather. In general you should wear light, water-resistant layers, and avoid cotton garments whenever possible.
Bring a Buddy
It's always best to paddle with at least one other person, especially if you don't have a lot of boating experience. The more people you travel with, the easier it will be to spot potential hazards and help each other out in the event of an emergency.
Ready to get outside and paddle down the beautiful waters of the Suwannee River? We'd love to see you at our resort and campground conveniently located in Mayo, Florida. Give us a call or contact us online to book your reservation today!