If you love the great outdoors, than you know how restorative spending time in nature can be. But did you know it can even help you overcome sleep problems? New research shows that camping can help reset our internal body clocks.
Reset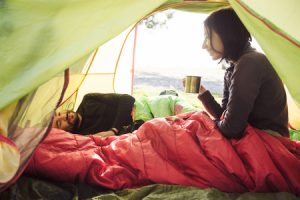 Due to our frequent exposure to artificial light, many humans stray from a natural sleeping pattern. But one week of camping outdoors and getting away from artificial light sources is enough to return a person's body clock to its natural sleep rhythms, according to a recent study published in Current Biology. These findings demonstrate that our internal biological clocks will quickly synchronize to a natural light-dark cycle if the opportunity arises.
Easier to wake up
During their one week of camping, the study participants' average light exposure increased by more than four times. This added exposure to natural light caused changes in their brains' melatonin production, which made it easier to wake up from a restful sleep.
Better Sleep
Many of the participants who usually experienced sleep issues claimed this was the only time they were able to get uninterrupted sleep by going to bed early and waking up early. This suggests that carefully controlling our exposure to artificial light, particularly at night, could help successfully treat sleep problems.
For a relaxing and rejuvenating camping experience to get your sleep schedule back on track, come visit us here at Suwannee River Rendezvous in Mayo, Florida! We offer a variety of primitive, water/electric and full hook-up sites. Contact us today for more information!