Taking your dog camping with you can be a lot of fun, both for you and for your pet. But before you decide to bring your four-legged friend along for the ride, there are a few steps you should take to ensure that everyone has a great time. Check out our suggestions below!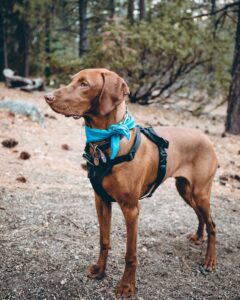 Find a Campsite That is Pet-Friendly.
First thing's first! Before you book a camping trip, you need to make sure the campsite you're going to visit allows dogs. After all, you don't want to arrive at your destination only to find out that it isn't pet-friendly. At Suwannee River Rendezvous, we're happy to welcome dogs to our campsites as long as they aren't noisy or aggressive. Just be sure to clean up after them!
Take Your Dog to the Vet First
Make sure your dog's flea and tick medications are up to date before you take them camping. If it's been awhile since your last trip to the vet, it's a good idea to schedule a visit prior to your camping adventure. This way, you can rest easy knowing your dog is healthy and ready for the journey ahead.
Pack a First Aid Kit for Your Dog
In the event that your dog is injured while camping, it's important to have a first aid kit handy. There are many helpful tools in first aid kits for humans, but certain items like veterinary bandages can only be found in first aid kits made specifically for pets.
Bring a Tether and Stake.
Even if you don't always tie your dog up at home, camping can be a much different experience. Your dog might get spooked by animals in the woods, or unexpectedly run off and get lost. With a tether and stake, you can give your dog some room to roam at your campsite without having to worry about them getting lost.
If you're looking for a pet-friendly campsite in Florida, look no further than Suwannee River Rendezvous. We would love to host you, your family and your pup on your next camping trip. Give us a call or contact us online to book your getaway today! Call us at 386-294-2510 today or visit us online for more information!