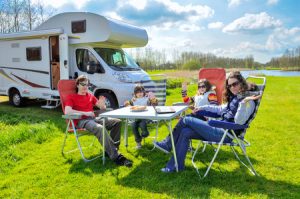 Are you in the process of planning your first RV camping trip? Congratulations! Traveling in an RV is a great way to explore the country. But before you go, you should take some time to familiarize yourself with RVing so that you can make the most of the experience. Check out a few essential tips for your first RV trip below!
Come up with a plan—but don't be afraid to deviate from it!
When you first hit the road, you should have a general idea of where you're going. Otherwise, you're going to waste a lot of gas and potentially miss out on some amazing sites. Plan out some destinations you want to see, but don't feel like you have to follow every single turn on the map. Allow yourself to take detours and visit sites that weren't on your itinerary. Embrace the spontaneity that RVing offers.
Find time for yourself throughout your trip.
While the average RV offers plenty of space for you to stretch out, you're still going to be spending a lot of time with your fellow passengers. Whenever you get the chance, find a way to make a little time for yourself. Whether that means taking a walk on a nearby trail or retreating to the back of the RV with headphones, a little alone time can go a long way during a road trip.
Ask questions of your fellow RVers along the way.
When you stop at an RV campsite, you're going to come in contact with lots of other people on similar journeys! Don't be afraid to ask questions or let them know about any concerns you may have. You may be able to learn a lot from these more experienced travelers.
Next time you're in Florida, be sure to visit our RV Resort on the beautiful Suwannee River! Give us a call to learn more, or book your reservation online today!