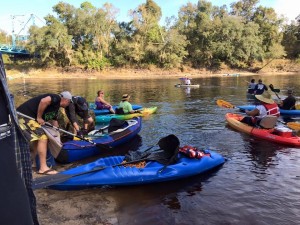 Planning activities for vacation can be tough, especially when you haven't been to the area before. Luckily for you, there is plenty to do along the Suwannee River that can keep you and your family busy for days.
Suwannee River Activities
Hit the Water
We here at Suwannee River Rendezvous offer canoe and kayak trips. On that trip, you can either bring your own boat, which we can haul, or you can rent one of the many we have available. The best part about them is they are on demand, so when you are ready to go, we will pack up and head out on the water.
Sights and Sounds
The area that surrounds our resort is full of Native American heritage which is really something to behold. Also, most of the river is still undeveloped, meaning that it's a great spot to view wildlife in their natural habitats.
Take a Dip
Be sure to bring your bathing suit and any other swimming items you like as you are going to want to swim in the beautiful water of the Suwannee River basin. These famous springs are sure to make your swimming experience a fun time and one you won't soon forget.
Hit the Island
There is a very small island just downstream from our resort that is ideal for fishing. Many of our past guests have had much success when dropping a line near it. So if you're in the mood for it, you can take your canoe or kayak and head on down to see if you can bring home a new trophy from your vacation.
Suwannee River Rendezvous is a resort and campground in Mayo, FL.
If you are looking to hit the outdoors for your next vacation, then we are the perfect spot for you. For more information on our resort or to book a stay with us, feel free to contact us or call today at 386-294-2510!