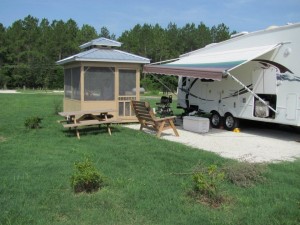 Having an RV is great if you are planning on traveling or going on vacation for an extended period of time.
However, camping sites can get crowded which can lead to a bad experience for everyone involved.
That's why we here at Suwannee River Rendezvous have opened our RV Resort perfect for drivers of the automobile.
Upon arrival, your RV will have its own pull-through site with enough room to fit the vehicle as well as a car if need be.
Every site comes with a picnic table, fire ring, free WiFi, and satellite TV to enjoy once things begin to wind down for the night.
From there you will see our beautiful pool complex containing a large swimming pool and two spas. We keep it open and heated year round unless the day's temperature does not break 60, which isn't often.
Once, you've seen that and you're all settled in, you can take a ride in a canoe or kayak along the historic Suwannee River. While out you can either fish or take in the amazing wildlife in the area.
We also offer activities on the weekend. On Fridays come play Bingo or sing along with Susie at the lodge. Then on Saturday, head over for some Karaoke and trivia that are sure to be a lot of fun. The lodge is also available for cards, games and parties as well.
Also, if you happen to run out of anything while staying at the resort, there is a Wal-Mart, a grocery store, and a hardware store only 30 minutes away.
Suwannee River Rendezvous is campground and resort in Mayo, FL that is offering an RV Resort perfect for extended stay visitors. If you would like more information or want to book a stay with us, contact us or call today at 386-294-2510!