More than a hundred years ago, the serene site of Convict Spring looked mighty different, and not just because there were no cars, no planes overhead, no cellphones and certainly no TVs.
Instead, right here at the Suwannee River Rendezvous, if you were taking in the sights, there's a very high probability you were working on a chain gang.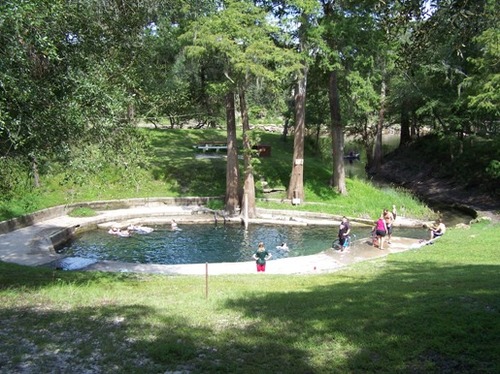 Back in the early 1900s, our spring was used by Lafayette County's incarceration system, notes Florida Caves. Their prisoners worked on road construction projects – often called chain gangs – and when it was too late or too far to get the inmates back to the county jail, they would spend the night at remote camps scattered throughout the county, and Convict Springs was one of those remote camps.
It's hard to imagine grizzled criminals gathered around campfires, the light reflecting in the spring, but history doesn't lie. Every once in a while, someone will turn up an artifact of one kind or another that further confirms the property's colorful past.
Convict Spring sits atop a fascinating underwater cave system as well, one we're certain the convicts didn't spend any time exploring. This particular cave system is a dangerous one, with a restricted entrance and the need for a side-mounted style of diving through extremely narrow passages, notes Cave Survey in its assessment of the spring.
In 2001, Dell Moats, John Moseley, Michael Poucher and Bill Rennaker swam through Convict Spring Cave to take a full survey. They captured extraordinary video footage showing the beautiful yet dangerous conditions inside the cave. We have DVD footage of their excursion, and in the lodge.
We invite you to come enjoy the spring – from the surface, of course – for swimming during the sultry summertime at Suwannee River Rendezvous. In the evening, over the sound of crickets and frogs, you might just hear the faint rhythm of a chain gang.
Convict Spring is just one of the many amenities and conveniences that makes our resort and campground such a popular destination for visitors from all across the country. To plan your trip, call us today at 386-294-2510.