The best swimming!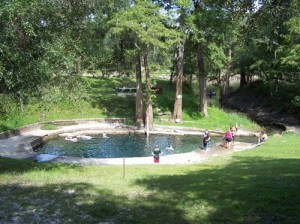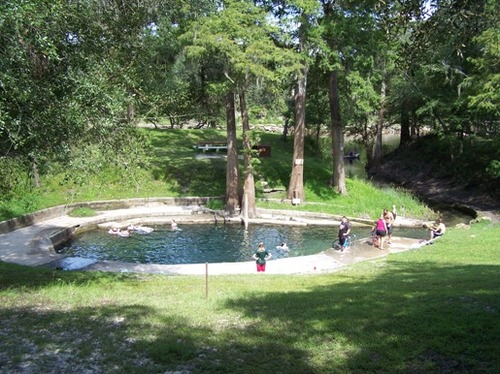 Convict Spring has beautiful clear water that makes for great swimming.  The spring water flows at a constant 70.5 degrees all year long.
The river is beautiful and all the springs are clear.  Come and enjoy the river and springs at their best!
Suwannee River Water Management District has replaced our spring water gauge so we can read it now. The water level will be recorded every day and sent off to the SRWMD every month.
Many fishermen will tell you the Suwannee River is great for fishing.
Whether you are boating or fishing off the banks of the river you will enjoy great fishing opportunities. A Florida Fresh Water Fishing License is required to fish and they are available in the town of Mayo or online.  You can use your computer to access the government site and get your fishing or hunting license.  Our spring is for swimming only.  Fishing is allowed at the spring cut and on the banks of the river.
Convict Spring Cave
Convict Spring is fed from an underground cave system that is fed from the Florida aquifer.  The Convict Spring cave has very narrow passages and therefore diving the cave is not allowed.
In 2001 Dell Moats, John Moseley, Michael Poucher, and Bill Rennaker were able to successfully survey the Convict Spring Cave. The extraordinary video footage is testament to the beautiful yet dangerous conditions inside the cave and can be viewed in the lodge.  The cave has been mapped to about ¼ of mile.
Why do they call it Convict Spring? In the early 1900's the spring was used by the Lafayette county jail system.
 The prisoners worked on road projects
(chain gangs) and when it was too far to go back to the jail, they stayed at remote camps through out the county. Convict Spring was one of these remote camps. Treasure hunters have found some artifacts from the prison camp days on our property over the years.